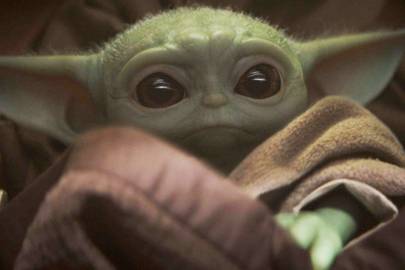 Baby Yoda is upon us. You can now sign up for 7-day free trial – after that, the service will cost £5.99 a month, or £59.99 for the year.
Due to the coronavirus pandemic, Disney has confirmed it's following Netflix, YouTube and Amazon in reducing the bandwidth the service will use at launch.
"In anticipation of high consumer demand for Disney+, we are proactively instituting measures to lower our overall bandwidth utilisation by at least 25 per cent in all of the markets launching Disney+ on March 24," Disney chairman Kevin Mayer said in a statement.
"In the coming days, we will be monitoring internet congestion and working closely with internet service providers to further reduce bitrates as necessary to ensure they are not overwhelmed by consumer demand."
When you buy something using the retail links in our stories, we may earn a small affiliate commission. This does not impact the products we recommend.
What films and shows are on Disney+?
New films include a re-telling of Lady and the Tramp, Togo – which stars Willem Dafoe sledding across the Alaskan tundra – and Stargirl, a teen coming of age story. Television shows include Star Wars spin-offs The Clone Wars and The Mandalorian, and the colon-tastic High School Musical: The Musical: The Series.
This being Disney the main draw is its library of films from Marvel, Pixar and its own classics, but arguably the biggest attraction is 29 seasons of the The Simpsons. Read our guides to the best films on Disney+ and the best Disney+ series for more recommendations.
What shows are coming to Disney+ in 2020?
In keeping with the Disney way, a great deal of the platform's output is geared towards children and young adults. The most interesting confirmed shows in 2020 include two Marvel spin-offs, WandaVision and The Falcon and the Winter Soldier. Both have just six episodes with the latter picking up events after End Game. A second season of The Mandalorian is also due in late 2020.
When will Frozen 2 come out on Disney+ UK?
Frozen 2 was available on Disney+ in the US from launch, but it's not currently on the service in the UK, much to irritation to many parents with bored children to entertain. We now know the film will join the UK service in July. Why the delay? It's most likely because of existing licensing agreements, or it could be because Disney wants a big hitting film to add to its catalogue down the line. Whatever the reason, it's sadly not available right now.
How much does Disney+ cost in the UK?
By now, you're probably getting tired of new subscription services. And Disney knows this. Disney+ is cheaper than some competitors, particularly if you take into account the amount of shows and movies that it can make available from its vast back catalogue.
The standard UK price of £5.99 per month makes it as cheap as its rivals. Netflix's cheapest plan starts at £5.99 per month, Apple TV+ is £4.99, BritBox is £5.99 and Now TV's entertainment package is £8.99, while Amazon Prime, which includes free deliveries on purchased products, is £7.99 per month.
However, there are some differences that may make Disney+'s offering more attractive. Some of Disney+ content is available in 4K. In contrast, Netflix's £5.99 plan doesn't include any 4K or HD video.
It's still early days, but Disney's strategy seems to be working in the US. Analytics firm Sensor Tower has estimated that its app has been downloaded 40.9 million times on Apple's App Store and Google's Play Store, potentially earning it $97 million (£74m). While these downloads don't equate to paying subscribers and only cover mobile devices, they show a promising start for Disney's streaming ambitions.
Why has Disney+ taken so long to come to the UK?
Disney+ launched in America on November 12 but has taken several months to launch around the rest of the world. In the UK, there's one big reason for the delay: Sky. In particular, the launch date is tied to licensing agreements that already exist for Disney films and shows.
Up until December 2019, Sky held the rights to broadcast Grey's Anatomy and a selection of Marvel's movies. It's believed that many of Sky's contracts with Disney expired before the streaming service launched in the UK.
Disney+ on Sky
Disney+ is available through its premium Sky Q service. It's also going to appear as an app on Now TV.
The deal, which has been described as lasting for multiple years, is believed to have been made in favour of other deals with UK TV providers BT and Virgin Media. Sky has previously made similar deals with Netflix, allowing its programmes to be folded into its electronic programming guide.
Neither Virgin Media nor Disney has announced plans to add Disney+ to the cable service at present.
Are Disney+ films and shows downloadable?
Yes, you can download content to watch later. Downloads are supported on Android phones and tablets, iPhones and iPads, and Amazon Fire tablets. Downloads last for 30 days.
How many people can watch Disney+ at once?
Disney+ allows up to four concurrent streams on a single account.
How many devices can you have Disney+ on?
You can register up to ten devices and one Disney+ account can support seven profiles.
Will Disney+ be on Amazon Fire TV?
Yes, there's a Disney+ app for all Amazon devices, including Fire tablets.
What other devices will Disney+ work on?
Disney+ compatible devices include most Apple devices, including Apple TV, Android phones, tablets and Android TV. Google Chromecast, some smart TVs from LG, Samsung and Sony, Roku devices, PS4 and Xbox One, and desktop browsers.
The Nintendo Switch doesn't support Disney+. Read our guide to how to watch Disney+ on your TV for more detail on what TVs and devices support Disney+.
Can Disney+ be cancelled at any time?
Yes, like most streaming platforms, you can cancel at any time when you pay monthly. Your subscription will continue until your next payment date.
Start 7-day free trial of Disney+
More great stories from WIRED
😓 Does alcohol kill coronavirus? The biggest myths, busted
📺 The best shows coming to Disney Plus UK
💩 Gender neutral toilets are a massive failure (so far)
🏙️ A huge Airbnb scam is taking over London